A quick look back at 2019…
Before all our attention turns to the latest trends and design forecasts, I'd like to take a moment to reflect on our 2019 accomplishments here at CDS.
Design-wise, we had an overwhelming amount of detached garage projects throughout the year, quite a few covered porches, a brand-new build, one historical house fully restored from a terrible fire and too many beautiful kitchens and baths to count! 
Heather's family had a year full of interesting travel, her son started high school and CDS moved into a brand-new office space. The new office was a great way to complete our year and now we're more ready than ever to produce amazing designs for our clients. Let's take a look ahead at what's trending …
Color Creeps in Full Force
Color has been standing off to the side watching the "cool kids," aka neutrals, dominate living rooms, kitchens and bathrooms these past few years. This year is all about using color and shying away from the neutral spaces we've been seeing, especially in kitchens and bathrooms. Bold, saturated colors and jewel tones are everywhere. High drama and contrast are prevailing. Think of black and white geometric flooring in a foyer space or black and white bathroom floor tile with a black freestanding tub.
Right now, cobalt blue is having a moment! On everything from walls to kitchen cabinets, bold blue is bringing some personality back into our spaces. Kitchen cabinets are no longer white. We've been saying this for the past two years but you'll finally start to notice colored cabinets in many of your mainstream design sources. These loud colors tend to be balanced by using unfussy countertops and pattern-free tiles in the same space. The cabinets are definitely the showstopper in these rooms! 
Other colors to look out for are chartreuse, emerald green and mint green! Don't fret if you're still up for something more natural because earth tones can still be found in accessories, textiles and furniture. These colors are quite popular right now: olive green, chocolate brown, yellow ochre and wine.
Wait, when did the 80's make a comeback?
Once we start to see color slowly work its way back into the design world, you can bet that eventually these trends cross over into the more permanent materials like tile. Clients and designers alike have gotten used to using these colors and are taking a more adventurous approach with their applications. High-gloss, saturated colored tiles are huge in bathrooms right now. We used to design bathrooms with white tiles, small grout lines and very minimal patterns. Things are switching up!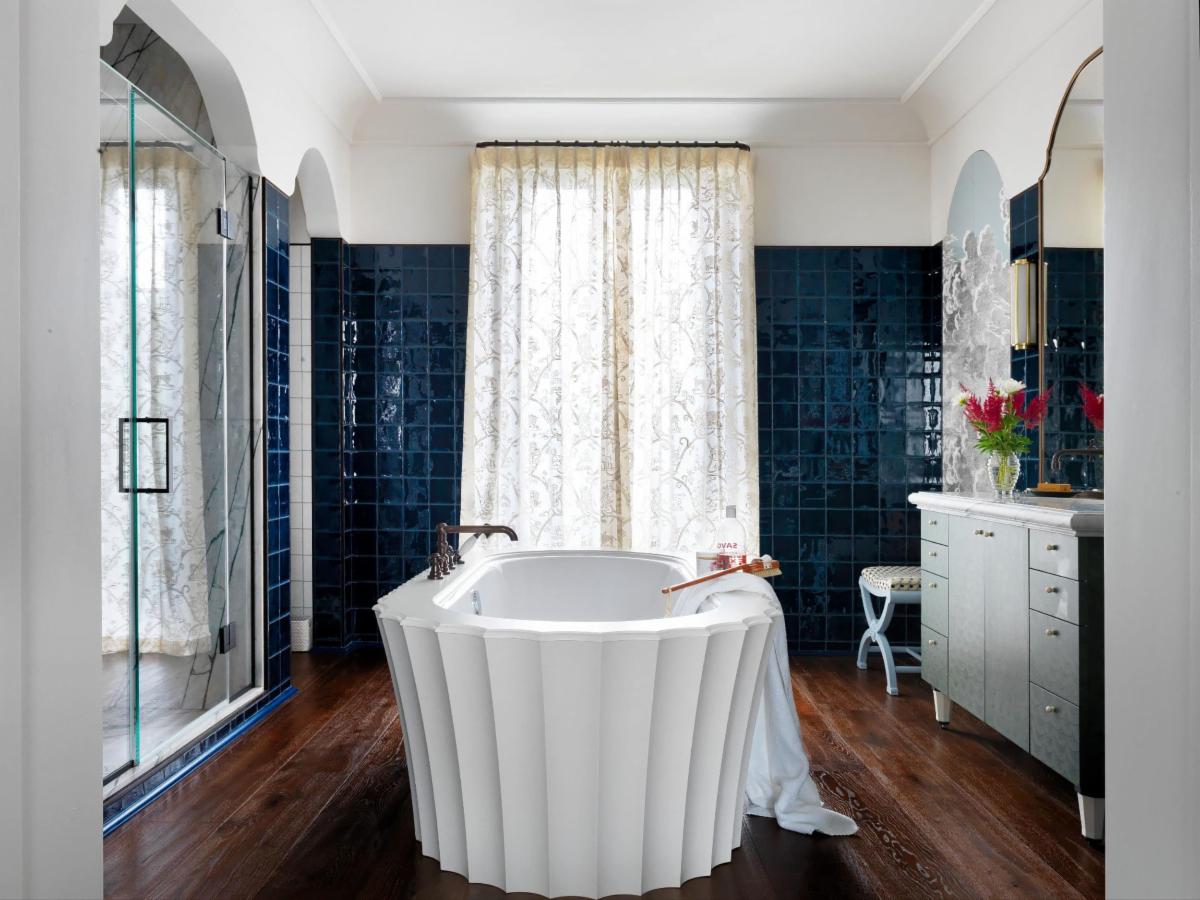 Bathrooms walls are being covered in brightly colored tiles. Wider grout lines are being requested! All the things that were no-no's ten years ago.
The new trends are feeling like a mix of art deco and the 80's, but with a more sophisticated feel. 
These periods were filled with curved shapes in furniture 
and accessories alike and while we're still seeing curves … it's showing up in different ways. Freestanding bathtubs have taken on interesting shapes and tub alcoves are being designed with unique walls to create the perfect get away right in your own home.
In the Kitchen:
Cylinder range hoods are a subtle and elegant way to make a cool statement in the kitchen. Kitchen islands and cabinets are curved into unexpected shapes. Even wall openings are following this trend with soft arches and circular designs.
Look what we've tumbled onto …
In recent years, the words "tumbled stone" made people cringe with flashbacks of the faux Mediterranean style of decorating that was so popular in the 90's. There was faux tumbled stone on every surface! Brace yourselves because tumbled stone is back! But not in a "I'm living in a Tuscan villa" kind of way; but in a more natural, beautiful textured kind of way. 
Textured stone brings a lot of warmth into a space. Travertine and limestone are also showing up in unexpected ways. Use it in large scale size on kitchen floors or as a textured accent on a bar backsplash or even consider as a fireplace surround.
Speaking of textures, natural stone sinks in bathrooms are a big hit for 2020. These sinks provide great contrast to the all the smooth and shiny materials typically found in a bathroom. They can be a nice element of surprise in a modern bathroom setting but can be on the pricey side. This trend may just have to be a fantasy bathroom for some of us! If you desire the look of natural stone, you can start on a smaller scale and look for natural stone bathroom accessories.
Did one of these trends make you feel nostalgic for the 80's or just overall inspired to start a colorful project? If so, let's talk about it! To set up an initial meeting, please email
He*****@Cr*********************.info
 or call the office at 704-708-4466.